Japan court says 'no' to restarting Takahama nuclear reactors
Comments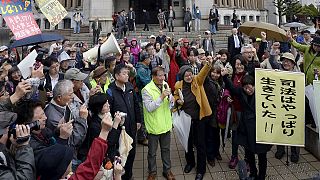 A court in Japan has issued an injunction preventing two nuclear reactors from being restarted at the country's Takahama plant, citing safety concerns.
It is a victory for worried locals but a blow to Prime Minister Shinzo Abe's push to return to atomic energy four years after Japan's Fukushima Daiichi nuclear power plant plant was seriously damaged by an earthquake-caused Tsunami.
Japan's entire stable of nuclear power stations was gradually switched off following the Fukushima disaster, while tens of thousands of people were evacuated due to concerns about radiation exposure.
Many are still unable to return to their homes and scientists have warned that some areas around the plant may remain uninhabitable for decades or more.
#Japan 's "#nuclear alley" where 2day #fukui district court placed an injunction on re-opening Takahama reactors 3&4. pic.twitter.com/jKKzBLbCfU

— Tom O'Sullivan (@MathyosEnergy) April 14, 2015
Takahama plant operator Kansai Electric Power slammed the injunction as "extremely regrettable and utterly unacceptable" and said it would appeal against the decision.
A lawyer representing the plaintiffs called the ruling a "perfect victory".
"This is the best decision that we could have expected," he told supporters outside the courthouse.
"This is a decision that was made, in part because due to the sacrifices of the victims (of Fukushima)," said Tadashi Matsuda, one of the supporters gathered outside the court. "To those still suffering in Fukushima; I hope this news reaches you and hope you listen.. this was made possible thanks to you."
Greenpeace hailed the court decision, saying it "could have a nationwide ripple effect on similar pending injunction cases — threatening to derail the Japanese government's nuclear reactor plans".
A separate court ruling on the restart of two other reactors in southern Japan is expected later this month.
Two other reactors at Takahama also remain offline.
The ruling places a question mark over Japan's beefed up nuclear safety after the 2011 Fukushima Daiichi incident.
Japan court bans restart of safety-cleared reactors, a huge blow to Abe government http://t.co/9zOz6wGafLpic.twitter.com/pPAKTuMKC4

— China Xinhua News (@XHNews) April 14, 2015
Abandoned robot
Meanwhile a snake-shaped robot used to film inside of the contaminated reactors at the damaged Fukushima plant lost control and became disconnected.
The robot has successfully delivered pictures outside but became unable to move after being exposed to radiation levels double the legal dose deemed safe for a human.
Authorities decided to cut the wire to the robot and leave it inside the nuclear reactor.
Robot explores Japan's Fukushima nuclear plant reactor, dies after 3 hours http://t.co/jGn42xkh2xpic.twitter.com/J080ZI5tG1

— sergei (@sergeimirkat) April 14, 2015