Prayers for the abducted Chibok school girls - still missing after one year
Comments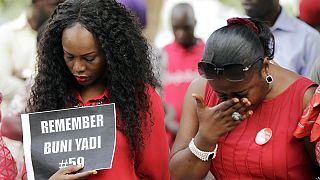 Campaigners calling for the rescue of over 200 girls abducted in Chibok, Nigeria, have held a prayer session in the capital Abuja to mark the one year anniversary of the missing schoolgirls.
It was the culmination of a series of events staged throughout the week to draw attention to what organisers claim is a reluctance by the government to do anything.
The Bring Back Our Girls has had international support including that of Michelle Obama but so far with little to show for it.
One year ago Boko Haram gunmen kidnapped some 270 girls when they raided their school. More than 50 eventually escaped but 219 remain in captivity.
Boko Haram which is against Western education is said to have enslaved the girls and subjected them to sexual violence while forcing them to convert to Islam.