Jean-Marie Le Pen quits French regional vote amid family feud
Comments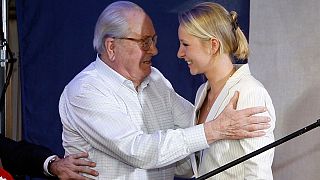 France's Jean-Marie Le Pen has pulled out of the country's regional elections set to take place in December.
The leader of France's National Front party, Marine Le Pen, says he has no future in the party he founded more than four decades ago.
The father and daughter had clashed over his defence of past comments, describing Nazi gas chambers as as a "detail of history."
Now she is in charge and says Jean-Marie will be summoned before a hearing of the party's executive board.
He told a French newspaper he would not stand as a candidate in France's south-eastern Provence-Alpes-Côte d'Azur region despite believing he was the "best candidate for the National Front."
He said his granddaughter Marion Maréchal-Le Pen would be the best person to replace him.
Many suggest the row may be a stunt. "A father and daughter are ripping each other to shreds in public – the masters of Greek tragedy couldn't have staged it better," veteran leftist Daniel Cohn-Bendit, now a political pundit, said this week.
Mr le Pen's remarks threaten his daughter's efforts to rid the far-right party of its anti-Semitic image and widen its appeal.
The ultimate Oedipal battle is taking place in #France. http://t.co/rHyRjiGs9A#LePenpic.twitter.com/N9uQquuVEz

— ChristianChristensen (@ChrChristensen) April 9, 2015