'Fault in our Stars' wins big at MTV Movie Awards
Comments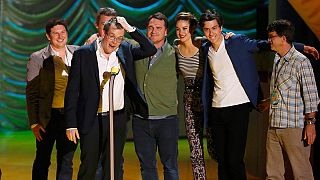 Teen cancer romance "The Fault In Our Stars" walked away the big winner at Sunday night's MTV Movie Awards in Los Angeles.
"Fault" is about two teenagers stricken with cancer who fall in love. It won three awards: Movie of the Year, best female performance for lead actress Shailene Woodley and best kiss for Woodley and co-star Ansel Elgort.
Woodley, 23, dedicated her accolade to author John Green, who penned the novel on which the film was based.
"It changed my life when I read it and dramatically influenced who I am today, and his words will transcend time," Woodley said as Green shed tears in the audience.
Woodley also received the night's Trailblazer Award, which rewards individuals carving a unique and inspirational path in movies, from her "Divergent" co-star Miles Teller, who praised the actress for being "an incredible force of nature."
Bradley Cooper took home the Golden Popcorn for best male performance for his role as the late Chris Kyle in American Sniper.