Pope Francis refers to 'genocide' over WWI massacre of Armenians
Comments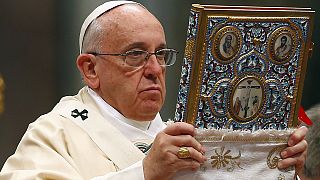 Pope Francis has quoted the word "genocide" in referring to the mass killings of Armenians 100 years ago, under Ottoman rule in World War I.
His phrase, which it is thought may anger Turkey, came as the Vatican held a mass attended by Armenia's president and senior religious figures.
Ankara has consistently denied that the killings were genocide and strongly protested when the pope used the term two years ago.
"In the last century, our human family lived through three massive and unprecedented tragedies," Pope Francis said. "The first, which is widely considered 'the first genocide of the 20th century', struck your own Armenian people."
Armenia and many historians say up to one and a half million people were systematically killed by Ottoman forces in 1915.
Argentina, Belgium, Canada, France, Italy, Russia and Uruguay are among more than 20 countries which have formally recognised what happened to the Armenians as genocide.
The European Parliament and certain other international institutions have done likewise.
Turkey accepts that many Armenian Christians were killed in partisan fighting, but argues that the number who died was much smaller. It claims that as many Turks were killed in what were World War I battles, in which Armenian paramilitary groups rose up against Ottoman rulers and sided with invading Russian troops.
Last year Recep Tayyip Erdogan, then Turkey's prime minister, offered condolences to the grandchildren of Armenians killed in the First World War, but said it was unacceptable to use the events as "a matter of political conflict".
Turkey has said it will accept the proposition of an international commission of historians on the highly contentious question.