Turkey protests after Pope Francis cites Armenian 'genocide'
Comments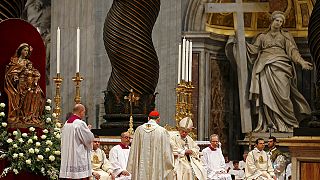 Turkey has summoned the Vatican's ambassador in Ankara in protest after Pope Francis quoted the word 'genocide' in referring to the mass killings of Armenians 100 years ago, under Ottoman rule in World War I.
An official said the ambassador was told Turkey was "deeply sorry and disappointed", adding that the pope's comments had caused a "problem of trust".
Ankara has consistently denied that the killings were genocide and the issue is sensitive among ordinary people. In Istanbul opinions were divided after the pope's comments.
"In Turkey the word genocide is wounding. Whenever it is mentioned, something bad happens. And people hesitate to talk about it. You can't say it (genocide) happened, you can't say it didn't happen. My personal opinion, yes it did. When you look at history, there's proof of it. Yes, there was a massacre, on both sides. There are plenty of sources that go back to (Turkey's founder) Ataturk's time" said one woman, Aysun Vayic Olger.
A young man, Mucahit Yucedal, disagreed: "To be honest, I don't support the word genocide being used by a great religious figure who has many followers. Because genocide is a serious allegation. Turkey rejects the genocide, that's a fact. I reject it, too. I think it's (the Pope's comments) wrong," he said.
Pope Francis made the comments as the Vatican held a mass attended by Armenia's president and senior religious figures.
"In the last century, our human family lived through three massive and unprecedented tragedies," Pope Francis said. "The first, which is widely considered 'the first genocide of the 20th century', struck your own Armenian people."
Armenia and many historians say up to one and a half million people were systematically killed by Ottoman forces in 1915.
Argentina, Belgium, Canada, France, Italy, Russia and Uruguay are among more than 20 countries which have formally recognised what happened to the Armenians as genocide.
The European Parliament and certain other international institutions have done likewise.
Ankara has consistently denied that the killings were genocide and strongly protested when the pope used the term two years ago.
Turkey accepts that many Armenian Christians were killed in partisan fighting, but argues that the number who died was much smaller. It claims that as many Turks were killed in what were World War I battles, in which Armenian paramilitary groups rose up against Ottoman rulers and sided with invading Russian troops.
Last year Recep Tayyip Erdogan, then Turkey's prime minister, offered condolences to the grandchildren of Armenians killed in the First World War, but said it was unacceptable to use the events as "a matter of political conflict".
Turkey has said it will accept the proposition of an international commission of historians on the highly contentious question.