Nigerian military believe it is winning the battle against Boko Haram extremists in the north of the country
Comments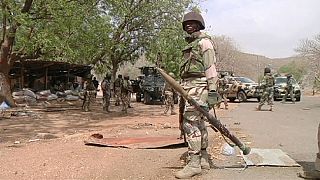 Nigeria's military officials believe they are winning the battle against the Boko Haram terrorists.
They claim to have ousted insurgents from all the major towns and forest camps in a large area of northern Nigeria.
They deny charges that its soldiers have killed thousands of innocent civilians in retaliatory attacks on villages accused of harbouring the insurgents.
"As the terrorists increase their sophistication and their desperation, we are aware that we are operating in our country. We must be very careful with the deployment of weapons, we must be very careful with the level of collateral damage that we can impose on the country, but as they get more desperate we also adjust the mission and maybe that is what is coming this far," Major General Chris Olukolade, Nigerian Director of Defence Information told reporters.
In the state of Borno in the north east of the country the town of Gwoza is one of those which has been liberated.
Military officials showed journalists an open-air graveyard containing he bodies of civilians who it's claimed were slaughtered in the town by the extremists. One man held up the stump of his severed right hand to reporters which had been chopped off under the law imposed by the insurgents.They accused him of stealing fuel which he denies.
He is a mechanic and through an interpreter said Boko Haram militants had threatened to kill him if he refused to work for them.
As more villages are liberated so more tales of atrocities emerge. The Nigerian military supported by soldiers from neighbouring Chad, Cameroon and Niger have ousted the insurgents in weeks from towns held for months.