High levels of air pollution hit London and other parts of England
Comments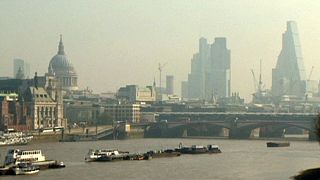 Once famous for its suffocating smog, London suffered a new bout of filthy air on Friday, ruining the view for sightseers.
To blame for the thoroughly modern episode of pollution were traffic fumes, dirty air blown in from Europe and dust swept in from the Sahara.
Add to that still conditions and the hottest day of the year so far and asthma sufferers didn't stand a chance.
"Well there are 5.4 million people in the UK with asthma and two thirds of them tell us that air pollution makes their symptoms worse and often significantly worse," said Colette Harris, Head of Health Advice with Asthma UK.
"We have had lots of people calling our helpline this morning, saying that they are really struggling and they are needing their reliever inhalers more than usual."
Health warnings for the most vulnerable were issued in several regions from Yorkshire in the north to the southeast of England.
The good news is that Atlantic winds should bring fresher air this weekend.