Pakistan to remain neutral on Yemen conflict
Comments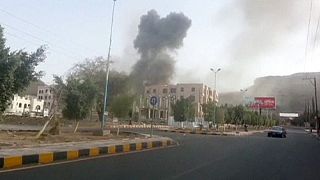 Saudi-led airstrikes have hit Yemen's capital Sana'a early on Friday morning.
The attacks targeted military positions used by soldiers loyal to deposed president Ali Abdullah Saleh – a supporter of the the Iranian-allied Houthi militia.
As the airstrikes enter a third week, Pakistan has voted to remain neutral in the conflict, following a call from Saudi Arabia to contribute military assistance.
According to UN estimates more than 500 people have lost their lives since the fighting began on March 19.
As the first two plane-loads of medical aid arrived in Sana'a, residents face a rising fuel and food shortage. Fuel is also needed to pump the water supply from underground aquifers. NGOs are warning that the water shortage could push the country to the brink of a humanitarian disaster.