Mumbai attack suspect released on bail
Comments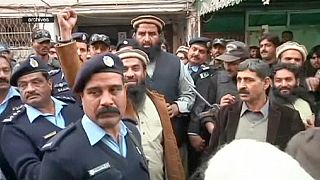 The suspected mastermind behind the 2008 Mumbai terror attacks has been released on bail from a Pakistani jail.
Officials at the prison confirmed the news that Zaki-ur-Rehman Lakhvi had been freed pending trial. He had been granted bail in December. However, a public order continuing his detention was declared void by Pakistan's High Court on Friday.
India's Home Minister had called the move 'unfortunate and disappointing'.
Lakhvi was one of seven suspects in the Mumbai attacks which killed 166 people and left relations between the nuclear-armed neighbours strained. The Lashkar-e-Taiba group was blamed for the attack, and Lakhvi is accused of leading the militants. He was arrested in 2009 and has been in detention since then.
India has repeatedly called on Islamabad to more actively pursue the case. Pakistan had faced increasing pressure to crackdown on terrorism following a Taliban attack on a school in Peshawar in December, which left more than 140 people dead.