How not to get hacked, lesson 1: don't share your passwords
Comments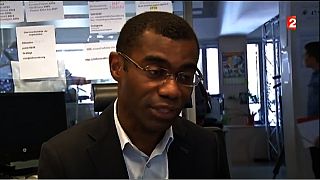 It's one of the golden rules of passwords: don't show them to people. But French broadcaster TV5 broke this rule in spectacular fashion just after having its television channels and websites hacked on Wednesday night.
When the cameras of France2 came to the TV5 newsroom to report on the story and interview journalists the following day, TV5 neglected to hide print-outs of log-in information for some of its social media pages, including Youtube and Instagram. So while one TV5 journalist was busy speaking to the France 2 reporter, these log-ins were stuck to the wall behind him for the world to zoom in on (See video at 3m45s). The blunder was spotted by French Twitter user vinzniv and has since been well shared.
The hacked broadcaster says it is working to beef up its security systems with national security officers, who may have their work cut out.