31 athletes and sports officials killed in bus tragedy
Comments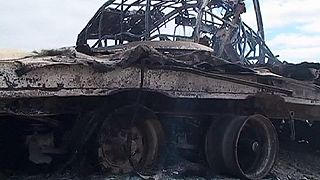 Thirty-one people are now known to have died in a head-on collision between a passenger bus and a petrol tanker in southen Morocco.
Most were killed when the two vehicles exploded into flames straight after the crash.
Nine people survived. All were badly injured in the crash,which happened on a road between the capital city, Rabat, and Laayoune, in Western Sahara.
The bus was carrying young athletes and officials from the Ministry of Youth and Sports. They had been taking part in a national sports competition.
Head-on collision between bus full of young athletes and truck kills 31 in southern Morocco https://t.co/WLQ5rMA2yEeuronews</a></p>&mdash; Keith Walker (KeithWalkerNews) April 10, 2015