US holds potential game-changing cards at Americas summit
Comments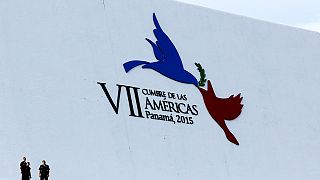 The 7th Summit of the Americas, to be held in Panama City, Panama, this Friday and Saturday, has been cited as historic and problematic.
Cuba is attending for the first time, yet divisions among the countries in Latin America abound.
President Juan Carlos Varela, who plays host, said:
"The message America sends from this summit is very important. We are ready to set aside ideological and political differences and focus on the welfare of the people of this continent. I think that there is a closeness, and we support President Obama and Castro for their efforts to re-establish diplomatic ties."
Since the famous handshake between Obama and Cuban President Raul Castro, at Nelson Mandela's funeral in 2013, there has been more progress. Now the two presidents are expected to meet, officially, for the first time.
Many allies will celebrate a mending of Cuba-US ties, as they have pushed for it for years. But for Cuban dissidents, it's a slap in the face. Panama detained dissidents arriving on Monday, who said they were threatened with deportation if they cause trouble.
Since 1994, every three or four years the summits on democracy and free exchange have drawn delegates from the 35 members of the Organization of American States (OAS) — that is North, Central and South America. Cuba is an OAS founding member but has been banned since 1962.
In 2009, the just-elected Obama attended. In Trinidad and Tobago he met then Venezuelan President Hugo (anti-US) Chavez, just seven years after Bush had backed a coup to oust him, one of many US bids to influence politics in major US trading partners.
Venezuela — seen by Washington as less democratic than better-managed South American countries — rolls from one crisis to another. Slower growth in China and downed oil prices have hammered commodity producers.
You would think Chavez successor Nicolás Maduro would water his rhetorical wine, but no.
The summit themed "Prosperity with Equity" comes one month after Washington said Caracas was a threat to US security and accused Venezuelan officials of human rights abuses.
Maduro has said he'll table a ten-million-signature petition protesting US policy.
Brazilian President Dilma Rousseff, her popularity shot by corruption scandals, could let the US in from the cold after leaks two years ago exposed spying by the friend up north. Commodities are half Brazil's exports. It needs to rebalance.
These summits are grounds in which all comers jockey for advantage, and competition juggles with good will.