Witnesses recall terror of shooting at Milan courthouse
Comments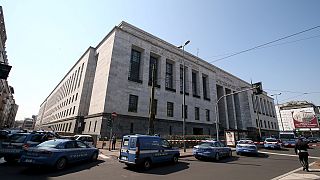 A gunman has opened fire at a courthouse in the Italian city of Milan, reportedly killing a judge and two others.
Staff say they barricaded themselves inside offices and took cover under their desks during the attack.
One witness said he saw a 20-year-old man on the floor, who was hit just under his heart. He also recalled a lawyer saying to him "look there are two other bodies on the ground."
As well as a judge, an attorney is also reported to be among the dead.
The gunman was eventually captured by police as he tried to flee on a motorbike, according to reports.
The shooting is raising questions about how an armed attacker could get access to the courthouse, where visitors are required to pass through metal detectors.