Brazil: Clashes break out at protest against new labour law
Comments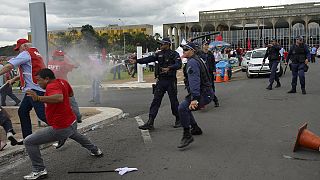 Police have used tear gas and pepper spray to disperse demonstrators in the Brazilian capital.
Thousands had gathered in Brasilia to voice their anger over a new law which would allow companies to outsource their labour force, when scuffles reportedly broke out between the protesters. Security forces are then said to have moved in.
At least seven people were reported to have suffered minor injuries.
The rally, organised by trade unions, came hours before lawmakers were expected to vote on the new labour legislation, which unions fear could lead to job losses and outsourced workers being hired on lower wages. The vote was later postponed.
Brazil has been experiencing a sharp downturn in its economy.
President Dilma Rousseff has launched an austerity drive to try and win back investor confidence, but a poll earlier this month showed 9 out of 10 Brazilians don't support it.