Greenpeace activists board oil rig in protest against Arctic drilling
Comments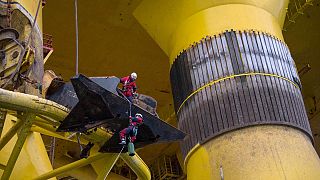 Greenpeace activists have boarded an oil rig on its way to Alaska to protest against drilling in the Arctic.
The vessel transporting the rig towards Seattle was about 1,200 kilometres northwest of Hawaii on Monday when six activists approached in inflatable boats and used climbing gear to get on board.
Oil company Shell plans to use the rig for exploratory drilling this summer in the Chukchi Sea, northwest of Alaska.
"Despite the fact that the US government itself admits that there is a 75 percent chance of an oil spill should oil production begin in the Chukchi sea, the Obama administration has still given the first green light to Shell along the way to Arctic oil drilling," said Greenpeace activist Laura Kenyon.
A spokeswoman for Shell said that by illegally boarding the vessel, the protesters had jeopardized the safety of everyone on board.
But Greenpeace says it has planned a safe protest over several days.
Greenpeace and other environmentalist groups oppose Arctic drilling because they fear oil companies would not be able to clean up a major spill in icy water.