More questions about medical oversight of pilots after Alps crash
Comments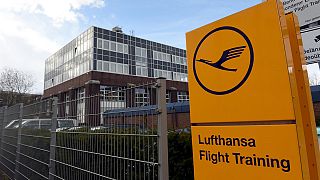 Further questions are being asked about the quality of checks on pilots in the wake of the French Alps plane crash.
Germany's Federal Aviation Office (the LBA) says it had "no information" about the co-pilot's history of depression before giving him his licence.
Andreas Lubitz took time off from training in 2009 and told the Lufthansa flight school that he had had a period of severe depression.
In a statement on Sunday, Lufthansa said it "meets its duty to provide information to the LBA".
Shortly after Lubitz apparently deliberately crashed the Germanwings plane into a mountain, killing all 150 people on board, Lufthansa insisted he had been certified 100 percent fit to fly.
German prosecutors say before the crash Lubitz had been searching the internet for ways to commit suicide and about the security of cockpit doors.
Lawyers say some victim compensation payments could end up being high, especially in countries where emotional damage is recognised.
Elmar Giemulla, a lawyer who specialises in aviation law, said: "(For) the American passengers – given the fact that Lufthansa maybe has acted faulty regarding this pilot – these awards I anticipate will be very high.
"And it can even be the case that an American judge awards so-called punitive damage, depending of course on the fact how grave this judge sees the fault of Lufthansa."
"He was 100 per cent fit to fly": Lufthansa's credibility is taking a battering http://t.co/JGxgwflUKC

— euronews (@euronews) April 2, 2015
Is Lufthansa striking right tone in its response following Germanwings crash? We ask some crisis experts to weigh in http://t.co/FEpZhAN1wH

— Ben DiPietro (@BenDiPietro1) April 6, 2015
#LufthansaCEO faces pressure after Alps plane #crashhttp://t.co/wHWp4S5ycf via mlive</a></p>&mdash; Pol Bacquet (pbsolar) April 6, 2015
Andreas Lubitz searched the internet for information on suicide using the name 'Skydevil' http://t.co/KmjxyClVGj

— Daily Mail Online (@MailOnline) April 6, 2015