French investigators "reasonably hopeful" second flight recorder contains vital evidence
Comments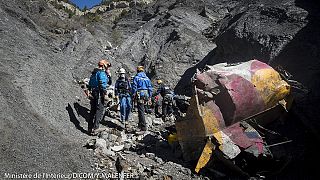 French investigators say there is "reasonable hope" that the recovery of a second black box data recorder can provide vital evidence about the demise last week of a Germanwings jet.
150 people were killed when the A320 came down in the French Alps and investigators want to determine whether the co-pilot Andreas Lubitz deliberately caused the crash.
Marseille prosecutor Brice Robin said the black box was hard to find amid the rocks and wreckage because "it was subjected to fire and blackened. Nonetheless, there is a possibility data can be recovered."
"As you may know, this box registers hundreds of parameters, including the speed of the plane, its altitude, its engine gearing, and also the action of the pilots flying the plane and the different modes of piloting the plane," added Robin.
Meanwhile, German prosecutors say they've taken a computer from Lubitz's home which allegedly shows searches for methods of committing suicide were made in the days leading up to the crash.