India launches air quality index amid soaring pollution levels
Comments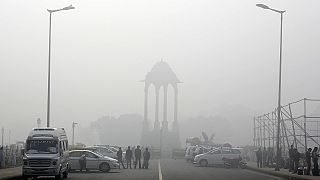 With air pollution soaring to alarming levels across India, the government is launching a new monitoring system to keep tabs on the problem.
The quality index will indicate whether air is healthy, poor, harmful or hazardous.
Pollution is the cause of more than 600-thousand premature deaths every year in India, according to the World Health Organisation.
Launching the new index, Prime Minister Narendra Modi emphasised that a change of lifestyle was needed to turn things around.
Medics say by the time people in New Delhi turn 35, their lungs start behaving like those of a smoker.
"In my practice, I am seeing a rise in the number of cases. Not only are the cases rising, we are having difficulty controlling patients, which were easily controlled earlier," said Dr Pankaj Syal, a lung specialist at PSRI Hospital in the capital.
New Delhi already has air quality monitors, but experts say the readings may not be reliable.
The new index will keep across pollution in 10 major cities.