Sara Taffel clinches gold in fencing championships in Tashkent
Comments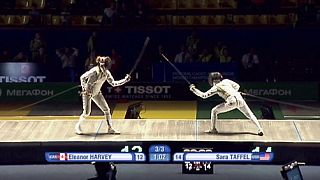 There was a first gold medal in the Cadet and Junior World Fencing Championships for Sara Taffel.
The American won the final of the foil after she had cruised past China's Yitang Fu in the semi-finals with a 15-6 win.
Canadian Elanor Harvey proved to be a tougher opponent in the final but the left handed 20-year-old won through to take the gold medal 15 points to 12.
In the final of Junior epee the individual medal went to Hippolyte Bouillot in a close contest against Zsombor Banyai. The 19-year-old Frenchman outwitted the Hungarian to take the gold medal 15 points to 13.
Over 1,000 fencers from around 100 countries are competing in the individual and team competitions in foil, epee and sabre.
The world championships are the focal point of the season for young fencers and it's the first time they have been hosted in Uzbekistan.