Sailor missing at sea for 66 days reunites with family
Comments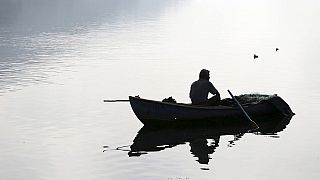 A 37-year-old sailor who has been missing for 66 days was finally located on a capsized boat 200 miles off the coast of the US state of North Carolina.
Rescue crews searched for Louis Jordan when his vessel capsized in January but could not find him.
After eating the food on his boat, he survived by catching fish and drinking rain water.
A German-flagged motor boat told the US Coast Guard that they spotted Jordan about 200 miles east of Cape Hatteras and brought him onto their boat.
Crews launched a MH-60 Jayhawk helicopter to take Jordan to Sentara Norfolk General Hospital in Norfolk.
According to Sentara Norfolk General hospital Jordan is in good condition.
His overjoyed family are travelling to Virginia to be with him for Easter.