Huge fire consumes General Electric factory in Kentucky
Comments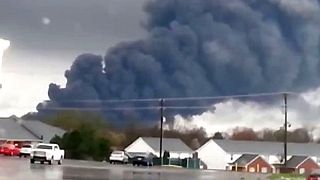 Firefighters are desperately fighting to bring a blaze under control at a General Electric factory in Louisville, Kentucky.
The building was quickly evacuated and no injuries have been reported. Billowing smoke could be seen from miles away.
Witnesses say the fire started inside Building Six of the complex shortly after 7am on Friday morning and it collapsed soon after.
According to ABC News station, Building Six was leased by Derby Industries, an industrial supply company, and a former GE employee said the site was being used for storage.
More than 120 firefighters from 18 districts are said to be at the site. The cause of the fire has yet to be determined.
The GE complex is so large 34 football pitches can fit inside one of the warehouses, according to the company's website
Fire consumes building at GE. Sends cloud over downtown. @courierjournalpic.twitter.com/uApKOd8baf

— Michael Clevenger (@MClevenger_CJ) April 3, 2015
"@theBravest: Incredible Photos Coming Out of Kentucky GE Plant Fire pic.twitter.com/c9Y7FDG6DY" #PrepperTalk#Kentucky#GEFire

— CatastropheNetwork (@CatastropheNet) April 3, 2015