China: Ex-security chief Zhou Yongkang charged with corruption
Comments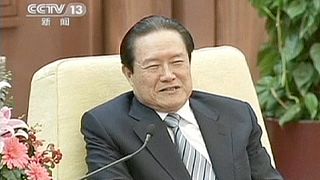 Once one of China's most powerful men, former domestic security chief Zhou Yongkang has been charged with bribery, abuse of power and intentional disclosure of state secrets.
The 72-year-old is the most senior Chinese official to be ensnared in such a scandal for decades.
Zhou was a member of the Politburo Standing Committee – China's apex of power.
Now retired and expelled from the ruling Communist Party, authorities say his alleged crimes took place over decades, in several different posts.
The decision to prosecute him is seen as underscoring President Xi Jinping's
crackdown on corruption at all levels.
The government's corruption fight has extended to almost every corner of the country, including powerful state-owned companies which dominate sectors of the economy such as energy, banking and telecommunications.
The indictment accused Zhou of "taking advantage of his position to seek benefits for others", "illegally accepting other people's huge assets", "abuse of power" and "causing heavy losses to public property, the state and the people", China's top prosecutor, the Supreme People's Procuratorate, said in a statement on its website.
"The impact on society is vile, the circumstances are especially serious," the agency said, without giving specific details of the charges.
Zhou's alleged crimes took place over decades, including when he was deputy general manager of China National Petroleum Corporation (CNPC), party boss in southwestern Sichuan province, minister of public security and a member of the Politburo Standing Committee, the statement said.
Zhou had been informed of his legal rights and listened to the views of his lawyer, the statement added, without saying where Zhou, who has not been seen in public since October 2013, was being detained.
No date was given for Zhou's trial, but state media said last month that China would hold an "open trial" in an attempt to show transparency. Legal experts say, however, the party runs the risk of Zhou threatening to reveal state secrets.