The Vatican and Italy agree new deal to end banking secrecy
Comments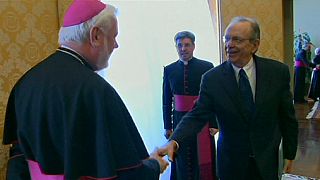 The Vatican and Italy signed a financial information sharing agreement on Wednesday in which the Holy See pledged full cooperation and transparency and effectively relinquished banking secrecy.
The Vatican has long been criticised by international financial organisations for providing a tax haven for well-connected Italians.
In particular, the Vatican bank for decades allowed many Italian citizens to hold bank accounts. That practice, which was in violation of the bank's mission to manage money for the Church, helped individuals evade taxes and launder cash, Italian law enforcement officials say.
Pope Francis has made financial reform a central plank of his two-year-old papacy and the bank, officially known as the Institute for Works of Religion, has been undergoing change. As of July, it had blocked the accounts of 2,000 clients and ended some 3,000 "customer relationships".
The deal, announced in two separate statements from the Vatican and the Italian Economy Ministry, came after months of negotiations and will cover information from 2009 onwards.
Vatican Foreign Minister Monsignor Paul Gallagher, writing in the Vatican newspaper, called it "a significant step by the Holy See towards the goal of maximum transparency in financial relations".
(Reuters)