PM Cameron prepares to face rivals in UK election's major TV debate
Comments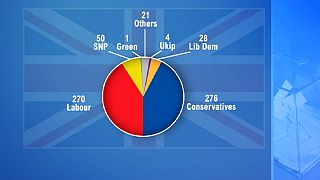 Britain's main political party leaders go head-to-head tonight in the first and only full televised debate of the general election campaign.
It has been billed as the match-up the media wanted as Prime Minister David Cameron was regarded as very reluctant to take part.
Opposition Labour leader Ed Miliband will be looking to improve his low personal ratings while Nick Clegg, the deputy prime minister and Liberal Democrat leader, will be out to repeat his 2010 performance that helped pushed his party to the front benches.
The latest polls suggest the contest between the heavyweights will be too close to call which could see the smaller or fringe parties play a decisive role if another coalition government has to be formed.
The anti-immigration and EU, UK independence party led by Nigel Farage is expected to garner wide support but that may only translate into a small handful of seats.
However, Nicola Sturgeon's Scottish Nationalist Party could end up kingmakers. Some polls suggest the SNP's dominance north of the border could ultimately decide who ends up in No 10 Downing Street.