Turkish prosecutor and two gunmen die in hostage crisis
Comments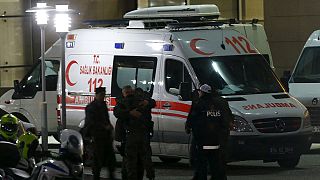 An Istanbul prosecutor and two gunmen who took him hostage have been killed in a shootout with Turkish security forces.
Earlier two members of a banned Marxist revolutionary group had issued a picture of Mehmet Selim Kiraz with a gun to his head.
The group is known as the Revolutionary People's Liberation Party-front ( DHKP-C) and are considered a terrorist group by Turkey, the European Union and the US. It said it carried out a suicide bombing in February 2013 at the US embassy in Ankara, where a security guard was killed.
Mehmet Selim Kiraz was apparently taken captive because he had headed an inquiry into the death of a boy during anti-government protests in 2013.
The gunmen had demanded the names of the security services whom they said were connected to the death of the 14-year-old boy who was called Berkin Elvan.
Professor Cavlan Ciftci a spokesperson from the hospital where Kiraz had been taken following the shootout announced the prosecutor had died:
"We did everything we could and took him to surgery. But in spite of every attempt we made to save him he has died as a martyr ."
Before the shootout police had begun negotiating with the hostage takers but the sound of gunfire forced them to act.
Apparently the gunmen had got in to the building in the first place disguised as lawyers.
Euronews' reporter Bora Bayraktar in Istanbul said:
"The hostage takers have been killed and this hostage drama has had a bloody end. But questions remain: How did these men manage to take guns inside of the Justice Building and . could police have done more with their negotiations?"