Germanwings and Lufthansa bosses refuse questions about co-pilot during visit to crash site
Comments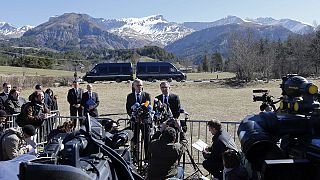 Just over a week after the Germanwings plane crash, the head of the airline and the boss of parent company Lufthansa have visited the scene.
They say it was important to mourn the victims and thank those helping in the recovery operation.
But they refused to answer any questions about the co-pilot, who seems to have deliberately crashed the plane.
Lufthansa CEO Carsten Spohr said: "We are just very, very sorry that such a terrible accident could have happened in Lufthansa where we put so much focus on safety.
"We are sorry for the losses that occured and there are just no words to express this."
The heads of the airlines walked away when reporters started asking questions about the co-pilot.
There was no response when one journalist asked: "When did you find the 2009 email from Lubitz (Co-pilot Andreas Lubitz)? Why did it take you so long to publish the emails?"
The airline has confirmed that Lubitz told his bosses in 2009, during his training, about a depressive episode he had suffered.
Another reporter asked: "Sir, your employee crashed a plane. Why are you refusing to take questions?"
The heads of Lufthansa and Germanwings, shielded by communication officials, walked away.
Reporters were told the pair would not be taking questions.
Adding to the agony of the victims' family, it is reported that a video filmed on a mobile phone inside the plane, capturing its terrifying last moments, has been found in the wreckage.
The German tabloid newspaper Bild and the popular French magazine Paris Match have published details of the video, saying they have seen the recording.
Inside the Germanwings A320 – Exclusive: The final moments before the crash http://t.co/emAWleCkF3 via ParisMatch</a></p>&mdash; Seamus Kearney (euronewskearney) March 31, 2015
There is confusion about the reports, however, with investigators denying any knowledge of a recording on a phone having been found.
The French news agency AFP quotes the Marseille Prosecutor as saying that any material retrieved from the crash site must be handed over to the authorities.
This raises questions about whether some material may have been scattered outside the official and protected disaster zone, or whether someone on the recovery team gave the phone to the media.