Funeral ceremony held for Turkish prosecutor, as police make arrests
Comments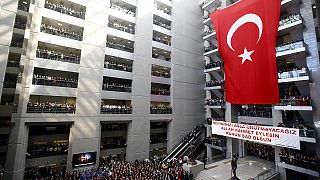 Crowds of people have attended a funeral ceremony in the Istanbul courthouse where a prosecutor was taken hostage on Tuesday and who later died after police tried to rescue him.
The two gunmen holding Mehmet Selim Kiraz were also killed in a shootout.
The captors were members of the extreme-left Revolutionary People's Liberation Party Front (DHKP-C).
On its website, the group said the hostage-taking was an act of revenge for the death of a teenager, whose case was being investigated by the prosecutor.
Fifteen-year-old Berkin Elvan was injured by a police tear gas canister during anti-government protests in 2013 and died nine months later.
DHKP-C sympathisers clashed with police in two Istanbul neighbourhoods in the wake of the hostage siege, local media reported.
Meanwhile, a leftist union website said riot police detained 36 students at Istanbul University after posters referring to one of the dead hostage takers was hung in the law faculty.
Amid the rising tensions, Turkey's justice minister is vowing to hunt down the "dark forces" behind the hostage-taking. More than 20 suspected members of the DHKP-C have reportedly been detained.