California rations water during worst droughts on record
Comments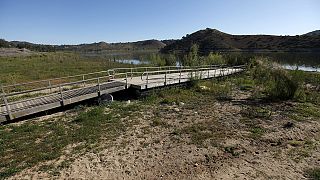 The US state of California is introducing mandatory water restrictions in the face of record-breaking drought.
State Governor Jerry Brown has directed cities and communities to reduce water usage by twenty-five percent.
Earlier in March, the state Water Resources Control Board imposed new drought regulations, outlawing lawn watering within 48 hours of rain and prohibiting water from being served in restaurants unless a customer requests it.
The state is entering the fourth year of record-breaking drought that has prompted officials to sharply reduce water supplies to farmers and impose strict conservation measures statewide.
In California, the drought lingers despite storms that brought some respite in December and February.
The storms helped fill some of the state's reservoirs higher than they were at this time last year but most still have less water than historical averages show is typical.