Nigeria elects opposition candidate Buhari as new president
Comments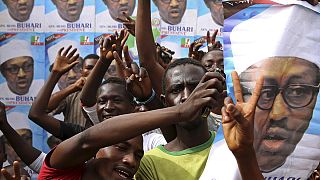 Nigeria's opposition APC party has claimed victory for its presidential candidate Muhammadu Buhari, but the country remained tense as it discovered the final results of the weekend's elections.
Preliminary results on Tuesday showed Buhari, of the All Progressives Congress, some two million votes ahead of Goodluck Jonathan.
But the election was a tight one, splitting the country between its Muslim North and Catholic South.
In the evening, Jonathan and his ruling People's Democratic Party acknowledged their defeat.
Buhari first came to power thirty years ago in a military coup. He said on Monday he would seek to better fight Boko Haram Islamist militants destabilising the country.
"With my background as a military man I think we have to quickly restore the morale of the Nigerian military and the reinforcement agencies by certainly getting weapons, retraining, and re-organisation. That is absolutely necessary," Buhari said.
In Lagos, some shops remained closed amid fears the election's results could spark violent clashes.
Hundreds were killed in protests after Jonathan beat Buhari in the previous presidential election, four years ago.