Istanbul: prosecutor held hostage dies after shootout
Comments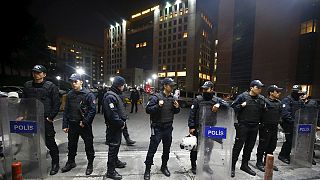 An Istanbul prosecutor has died from his wounds after security forces stormed the office where members of a far-left Turkish group took him hostage, killing his two captors.
The Revolutionary People's Liberation Party-Front (DHKP-C) had published a picture of the captive with a gun to his head and said it would kill him if their demands were not met.
Turkish President Tayyip Erdogan said Mehmet Selim Kiraz had been shot three times in the head and twice in the body. He died despite being rushed to hospital for emergency surgery.
Police chief Selami Altinok said authorities had established lines of communications with the hostage-takes, but had been forced to act when shots were heard from inside the room where Kiraz was being held.
The prosecutor was leading an investigation into the death of 15-year-old Berkin Elvan, who died after nine months in a coma from a head wound sustained in anti-government protests.
The DHKP-C said on its website that it wanted the police officer it blames for Elvan's death to confess on television, officers to be tried in "people's courts" and charges against those who attended protests for Elvan to be dropped.