Israel: Netanyahu warns nuclear deal would leave Iran able to make a bomb in under a year
Comments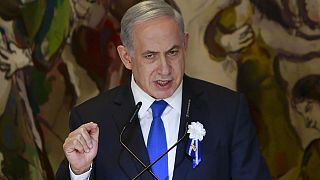 Israeli Prime Minister Benjamin Netanyahu says the framework Iranian nuclear deal being sought by international negotiators will leave Iran with the capability to develop an atomic weapon in under a year.
He reiterated his opposition to the accord at a parliamentary swearing-in ceremony following
Israel's recent elections, vowing his country would not bury its head in the sand.
"The greatest threat to our security and to our future was and remains Iran's efforts to arm itself with nuclear weapons," Netanyahu said.
"The agreement being formulated in Lausanne paves the way to this outcome."
He added: "It appears the deal being formulated in Lausanne will leave Iran with underground facilities, the nuclear reactor in Arak and with advanced centrifuges."
Israel, believed to have the Middle East's only nuclear arsenal, says a nuclear-armed Iran would threaten its existence. Tehran denies it is seeking an atomic bomb.
Israel has in the past threatened Iran with a military attack.