Heated exchanges in Athens as Greek PM vows not to capitulate over bail-out extension plans
Comments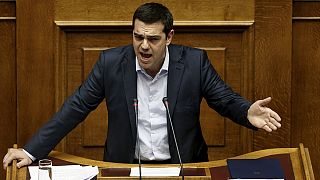 The Greek parliament has been the scene of heated exchanges over the country's financial crisis. Euronews's reporter Akis Tatsis described a bad tempered debate which turned into a confrontation between the government and the opposition parties.
Addressing parliament after a day of what he called frustrating talks with officials from the Brussels group, Prime Minister Alexis Tsipras said he was willing to support "an honest compromise" with Greece's international lenders but would not capitulate.
"With the February 20 agreement, the need is recognised for a discussion to be opened on the necessary restructuring of our debt as without such an intervention, the truth is, it is impossible to repay it," said the Prime Minister.
Tsipras is racing to get the seal of approval on a bail-out extension before financial deadlines in April and he wants to present a united front to Brussels at the negotiations.
New Democracy party leader and former Prime Minister Antonis Samaras grudgingly agreed:
"We will support whatever will keep the country from smashing into the rocks. But you are the government today, and you have the responsibility and we are telling you to make a deal now, the lies are over. If you decide to proceed responsibly we will be supportive. Can you handle the responsibility?"
Athens is to submit proposals to eurozone finance ministers on Monday, but work on the revenue-raising measures has yet to be completed. Whatever plans are presented German Chancellor Angela Merkel has warned "they has better add up".