Turkey hit by biggest blackout in decade
Comments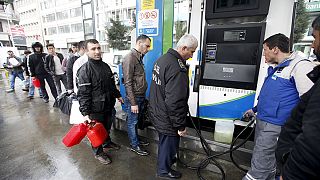 A giant power outage in Turkey paralyzed the country's transportation system on Tuesday,forcing confused locals to ride the bus instead of the tramway and metro.
Blackouts crippled dozens of cities including Istanbul and the capital Ankara.
Local media said this was Turkey's biggest power outage in over a decade.
It started shortly after 10:30 in the morning local time, closing down tram and metro lines, switching off traffic lights and causing traffic jams.
Prime Minister Ahmet Davutoglu said it could be just a technical glitch but that all possible causes were being examined, including terrorism.
The blackouts have forced millions of locals to find alternative itineraries, and the energy ministry has set up a crisis centre to look into the problem.