France's conservatives make huge gains in local elections
Comments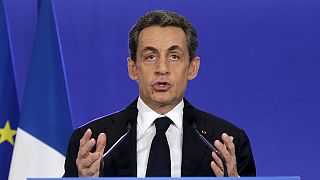 France's centre-right party and its allies are celebrating a resounding victory in the country's local elections.
Some papers are saying its a major step in the comeback of both the conservative UMP party and France's former president Nicolas Sarkozy.
The new local political map shows the UMP and its allies will take over two-thirds of the 102 local "departments". By far the centre-right's best showing since 1992.
Welcoming the result, Sarkozy said: "We're finally going to accelerate our preparation of a Republican project to change the governing political party. This project is needed to redress the country, to stop the decline which the most archaic Socialism in Europe has plunged us into over the past three years.
France's Prime Minister Manuel Valls has tried to play up modest signs of a recovery in the euro zone's largest economy, but was forced to admit being well-defeated.
"The far right's too strong, much too strong and the results are a challenge to all democrats. We all need to draw lessons from it."
France's far-right Front National made only limited gains. Despite its growing popularity, it failed in its target to gain control of a constituency.
But its leader Marine Le Pen struck a defiant note: "The objective is getting closer, get into power and implement our ideas to straighten things out in France, give it back its freedom, its safety, its prosperity. Impoverishment, mass unemployment, the destruction of our identity are not inevitable."
In total, 4,108 councillors with limited powers over roads, schools and social services were elected.