Britain's Prime Minister Cameron sets May 7 general election date
Comments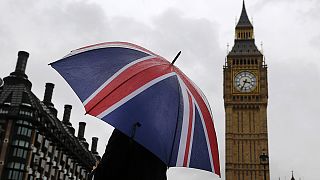 Britain's general election campaign has well and truly begun following the dissolution of parliament.
Prime Minister David Cameron informed Queen Elizabeth the general election will be held on May 7, a formality marking the symbolic end of five years of coalition government between the Conservatives and the centre-left Liberal Democrats.
Announcing the much anticipated decision, Cameron defended his party's economic record.
"After five years of effort and sacrifice, Britain is on the right track. This election is about moving forward and as prime minister I will ensure that is what we deliver," said Cameron.
European Union membership could hang on the outcome of the contest and Britain's opposition Labour leader Ed Miliband says the country must remain inside the bloc.
"There could be nothing worse for our country, or for our great exporting businesses, than playing political games with our membership of the EU – so I'm not going to do it." said the Labour leader. "In the past five years, our place in the European Union has been become less and less secure. David Cameron used to say he would campaign to keep Britain in Europe, but now he won't rule out campaigning to leave," he added.
Polls predict no party will win with an outright majority which could see the anti-European UK independence party play a key role in the result.