Success for Sarkozy as France swings to the right in local elections
Comments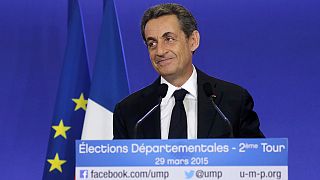 He is still got some way to go to get back into the Elysee Palace, but Nicolas Sarkozy's conservative UMP party and its allies are celebrating a resounding win in French local council elections taking 66 out of 101 departments – giving the former president precisely the springboard he needs.
"This victory is first and foremost the fruit of months of campaigning by all our candidates," Sarkozy told supporters once the first exit polls and projections from Sunday's second round of voting were announced.
"They have shown, by the power of their commitment, that our ideas could win everywhere including in departments run by the left for decades."
By contrast, the current president's Socialists (PS) and their allies fared badly taking only 34 departments and losing half the councils or departments they previously held.
Francois Hollande's own southwestern stronghold of Corrèze is among the departments to have fallen to the right.
Although the National Front (FN) failed to take control of a department it did however win dozens of seats strengthening its presence in grassroots politics.
Leader Marine Le Pen hailed it as a significant increase in the party's scores.
She has her own eyes fixed on the 2017 presidential race – hoping
a base of locally elected officials will help her and her party become more mainstream and better placed to contest national ballots.
The result is a tie between Left and Right in the department of Vaucluse in south east France .