Iran nuclear talks intensify as deadline for deal looms
Comments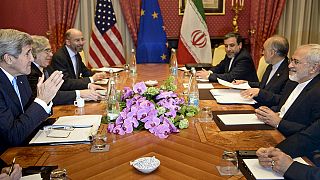 It is still touch and go at the Iran nuclear talks in the Swiss resort of Lausanne with a March 31 deadline getting closer and a preliminary accord seemingly within reach.
But for US Secretary of State John Kerry and fellow negotiators from six world powers, sticking points remain with the delegation from Tehran.
These include the Islamic Republic's ambitions concerning nuclear research and development and the speed of removing UN sanctions.
US State Department Persian language spokesman Alan Eyre told euronews that while efforts are being made, it is still not clear whether an agreement can be reached.
The six world powers negotiating with Iran – the United States, Britain, France, Germany, Russia and China – are seeking at least a 10-year suspension of its most sensitive nuclear work. The dispute dates back more than a decade and has fuelled fears of a new Middle East war.
Iran denies charges from the West and Israel that it is seeking to develop a nuclear weapons capability, insisting its programme is purely peaceful.
But as leaders like John Kerry and France's top diplomat Laurent Fabius delay ongoing travel plans to stay and see the talks through, Israel says the deal it sees emerging is worse than it feared.
"This deal, as it appears to be emerging, bears out all of our fears, and even more than that," Prime Minister Benjamin Netanyahu told his cabinet in Jerusalem.
Israel, which is believed to have the Middle East's only nuclear arsenal, feels especially threatened by the possibility of a nuclear-armed Iran.
Netanyahu referred to advances made by Houthi rebels allied to Tehran in Yemen, and accused the Islamic Republic of trying to "conquer the entire Middle East".
"The Iran-Lausanne-Yemen axis is very dangerous to humanity, and must be stopped," he said.
Our reporter in Lausanne, Reihaneh Mazaheri, says negotiations between Iranian Foreign Minister Mohammad Javad Zarif and his counterparts from the world powers are getting ever more intensive.
They are seeking to avoid sharing details of this final push. But the question remains: Is a deal possible?