Inside Sport: the basics of squash
Comments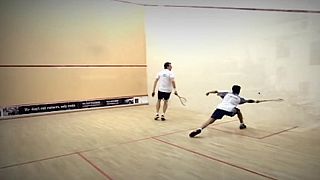 Born out of the game Rackets, Squash was invented at Harrow School in England around 1830.
Pupils discovered that a punctured ball, which "squashed" on impact with the wall, required a greater variety of shots and skill to hit.
Today the sport is played by over 20 million people world-wide.
If you want to add yourself to that number here's a few basic rules to get you started.
Before you begin playing warm yourself up and the ball.
Also check which ball to use according to your level.
During play, the ball can hit anywhere below the top line, or outline, and above the bottom line which is also called the tin.
When serving, one foot must be inside the box, the ball must then hit the main wall between the outline and the service line and land in the opposite quarter.
After every shot try to get back to the 'T-zone' that will give you the best position to cover the next shot.
After playing a shot you need to get out of the way of your opponent.
If you try and fail it's a 'let' and the point is replayed, if you don't try to move out of the way your opponent wins the point.
A game is up to 11, but you must win by two points. A match is usually the best of five games.