Security stepped up ahead of Nigerian presidential elections
Comments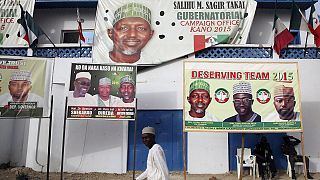 Security has been stepped up in Nigeria ahead of the presidential elections.
Originally scheduled for February 14, the vote was postponed to March 28 due to the ongoing threat of violence from hardline militant group Boko Haram.
With this in mind, President Goodluck Johnathan and opposition leader Muhammadu Buhari have signed a second accord pledging to hold peaceful polls.
In the latest pact, the pair agree not to incite religious or ethnic tensions and call on all Nigerian citizens to refrain from violence.
Post-election violence in 2011 resulted in the deaths of around 800 people.
Recent weeks have seen Boko Haram carry out a number of suicide bombings in Nigeria, despite a military crackdown.
In an attempt to guarantee people's safety the country's land and sea borders have been closed in the days running up to the vote and spot checks are taking place.