Greece commemorates National Day
Comments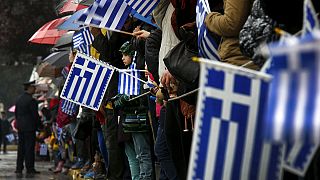 Thousands of Greeks braved rainy weather to line the streets of Athens for National Day commemorations.
March 25 marks the start of Greece's 1821 uprising against the Ottoman Empire.
The main event, as every year, was the military parade, during which tanks rolled through the streets of the Greek capital and jets and helicopters flew overhead.
Over the past three years National Day celebrations have at times turned into intense anti-austerity protests.
But, as euronews correspondent Stamatis Giannisis reported, "the new left-wing government is trying to change that – to turn such occasions into demonstrations national unity."
There was less security than last year and the public was allowed greater access to the parade.
"We need to feel like free people, free Greeks," one spectator told euronews, "to preserve our pride and our dignity."
Another said: "We must draw inspiration from our ancestors, they sacrificed themselves for us."
Besides the military parade, there were performances of traditional Greek songs and dances.