Spanish, French, German leaders extend condolences to air crash disaster families
Comments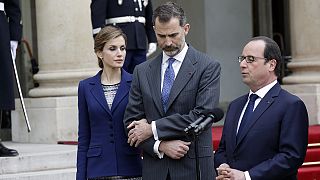 On hearing the Germanwings disaster news, Spanish King Felipe VI aborted an official visit to France. Accompanied by Queen Letizia and flanked by President François Hollande, he spoke from the steps of the Elysee Palace in Paris.
Felipe said: "We all, the Queen, President Hollande and ministers, would like to express our sincere and heartfelt condolences to the families who have lost loved ones today. Also we would like to express our gratitude to the French authorities, President Hollande and Prime Minister Manuel Valls and the whole government for all the measures that they immediately put into place."
Felipe's state visit had been scheduled to last for three days. The couple had barely arrived.
President Hollande said: "I want to confirm that all measures have been set in motion to know more about the circumstances of the accident and to find the victims."
The king and queen returned to Madrid, to offer support to Spanish families from there.
In the afternoon, German Chancellor Angela Merkel cancelled appointments and made a statement in Berlin.
Merkel said: "Today, I mainly think of the immense suffering that this disaster has brought to so many people. My thoughts and my sympathy, and the thoughts of the entire government are now with the people who have so suddenly lost their lives, among them many compatriots. The suffering of their families is immeasurable."
The German federal transport chief and minister for foreign affairs were heading for the investigation zone in France. Merkel said she would go tomorrow.