France: Search teams arrive at Germanwings plane crash site
Comments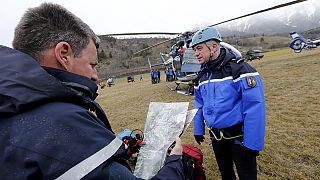 A plane carrying 150 people, including a group of schoolchildren, has crashed in the French Alps.
Aerial footage shows the wreckage of the Airbus A320 jet, operated by Lufthansa's Germanwings budget airline, strewn across the mountains.
Investigators are describing a scene of devastation.
One official, who has flown above the mountainous crash site in a helicopter, said the Airbus had "literally been ripped apart."
Flight 4U 9525 was en-route from Barcelona to Dusseldorf when it crashed in Meolans-Revel, a remote and sparsely populated area, around 100 kilometres north of Nice.
According to Germanwings, the jet started plummeting shortly after reaching its cruising height.
It descended for around eight minutes, before losing contact with air traffic control at around six-thousand feet. The pilots did not issue a distress call.
The airline believes there were 67 Germans onboard the flight.
Sixteen children and two teachers – returning from an exchange trip – are said to be among them.
Spain's deputy prime minister said 45 passengers had Spanish names.
The Airbus A320 is a workhorse of the skies, used by airlines around the world.
The crashed jet is said to have had a routine maintenance check on Monday.
It's come down in an alpine region which is difficult for emergency teams to reach.
Police say it will take days to recover the bodies.
One of the plane's black box flight recorders has already been found – allowing investigators to begin the process of finding out what went so catastrophically wrong with this routine European flight.