Spain's Popular Party fails first election year test in Andalusia
Comments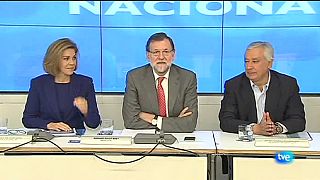 Nursing election hangovers, Spanish Prime Minister Mariano Rajoy and party colleagues have been discussing Sunday's defeat in Andalusia.
The Popular Party (PP) came second but was the biggest loser, with a sharp drop in the number of seats, from 50 in 2012 to just 33.
The Socialists (PSOE) were clear winners with 47 seats, though they failed to win an overall majority in the 109-seat regional parliament in Seville.
Leader Susana Díaz, who is expecting her first child, called it "an historic and undisputed victory".
The result, which confirmed the arrival of new parties on the political scene in Andalusia, hints at potential upheaval in this year's general election.
It is certainly food for thought for Spain's ruling centre-right: "In times of crisis whoever has to govern does not have it easy. Also, we are living in a time when there are new parties and this also logically affects us," said the Popular Party's spokesman and election strategist Carlos Floriano.
Only a year old, anti-austerity Podemos took 15 seats to become the third-largest party in the Andalusian parliament – building on its success at last year's European elections.
Regional leader Teresa Rodríguez reminded euphoric supporters that people were still being evicted from their homes.
In fourth place came another, less radical, newcomer: the centre-right Ciudadanos or "Citizens", who with nine seats are tipped as possible alliance partners.
The Socialists have governed Andalusia continuously since 1982, but the new parties blame both of Spain's traditional parties for the area's economic hardship, including the country's highest unemployment rate of 34.2 percent.
Spanish newspaper El País said the Andalusian results represented an early boost for the Socialists in election year. The paper argued however that although a new generation was demanding new solutions, Sunday's vote did not indicate that Spain's two-party system was in crisis.