Newly reelected head of Spain's Andalusia region also expecting first child
Comments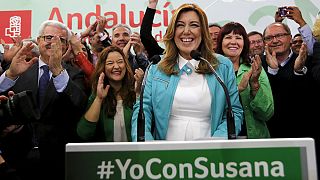 For Spanish politician Susana Diaz, 2015 will be remembered for two very important events.
I want to be able to look my son in the eyes and tell him that we left an Andalusia that is better than the one we inherited from our fathers.
The 40-year-old is preparing to give birth to her first child, a boy, in July, and she has also just been reelected as head of the Andalusia region.
Socialist Diaz became head of the region in September 2013 following the resignation of José Antonio Griñan.
The weekend poll in Andalusia was brought forward by a year by Diaz, who complained that her leftist coalition was unstable.
The vote was seen as a key test for Spain's opposition Socialists, who are struggling to win support as a general election nears.
Susana Díaz: "I will govern alone": Socialist premier-elect celebrates her new lack of dependency on other par… http://t.co/BLMqeTC9g5

— burgerchrist (@burgerchrist) March 23, 2015
But there is a lot of focus in Spain on the fact that Diaz was on the campaign trial while heavily pregnant.
Diaz supporters may have secretly hoped that the pregnancy would create a buzz and attract votes because of the "feel good" factor.
The news of the pregnancy virtually coincided with the announcement for early elections in the region in southern Spain.
And for those who tried to use the pregnancy against Diaz, there was a blunt answer.
When a spokesman for the ruling People's Party in Madrid said he was worried that Diaz might fall sick and not be able to attend a television debate, she replied: "I'm pregnant, not sick."
During the campaigning she referred to her future motherhood.
"I want to be able to look my son in the eyes and tell him that we left an Andalusia that is better than the one we inherited from our forefathers."
Junta president Susana Diaz is pregnant ahead of elections http://t.co/yOYMpELzJA

— The Olive Press (@olivepress) January 19, 2015
Susana Díaz leads PSOE to victory in #Andalucía but falls short of overall majority http://t.co/R6p1AEs1sDpic.twitter.com/g5SbnZp4Rh

—

SUR

in English (@SUR_english) March 23, 2015
Shy of Majority, Socialists Win in Spain's Andalusia _susanadiaz</a>: The New York Times <a href="https://twitter.com/nytimes">nytimeshttp://t.co/I4XeIbRK0a

— Mª J. Serrano (@MariaJ__Serrano) March 23, 2015