Afghans demand justice for Farkhunda
Comments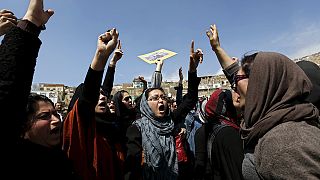 Hundreds of Afghans have gathered in Kabul to protest against the brutal murder of a woman accused of burning the Qu'ran.
Farkhunda, a religious scholar, was beaten, pushed from a roof, run over and set on fire by a mob before being thrown into the Kabul River.
Thirteen people have been arrested in connection with the attack, while 13 police officers have been suspended for allegedly standing by while the assault took place.
The incident sparked a huge public outcry, with many demanding the perpetrators be prosecuted.
Maliha Arghawan was among the demonstrators:
"We ask the government and police why this incident has happened," she demands. "We are trying to defend her blood and we're asking for justice."
Afghans protest death of Farkhunda, woman killed by Kabul mob http://t.co/esxrasI5b8pic.twitter.com/aLG5gxNfUj

— CBC News (@CBCNews) March 23, 2015
Civil Society activists in #Kabul stage protest seeking #JusticeForFarkhunda Photo: Walid Tamim pic.twitter.com/EK2dlULpJz

— Habib Khan Totakhil (@HabibKhanT) March 23, 2015
Many wore masks with Farkhunda's face printed on them. One masked female protester spoke up about women's rights in Afghanistan.
"We want to say 'women's rights' in Afghanistan is nothing more than a slogan. Women here don't have any rights. Afghanistan is the most dangerous place for women."
Women's rights activists carried Farkhunda's coffin to the burial site. At her funeral, an Interior Ministry official said no evidence had been found to suggest she had burned Islam's holy book.
Women insist on carrying Farkhunda's coffin while men protect around them.. Maybe never done before. #Kabulpic.twitter.com/3FigME6wr8

— Courtney (@courtneybody) March 22, 2015