Greece: Golden Dawn leader put under house arrest pending trial
Comments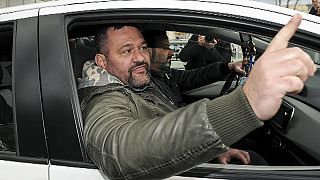 The leader of Greece's far-right Golden Dawn party has been released from prison and placed under house arrest, after an 18-month limit on his pre-trial detention expired.
Nikos Mihaloliakos and more than dozen party members were arrested on suspicion of founding and participating in a criminal group.
It came after an anti-fascism rapper was killed by a party supporter in 2013.
The killing sparked nationwide protests and prompted a government-led crackdown on Golden Dawn, which entered parliament for the first time in 2012 by tapping into voter anger at Greece's economic crisis.
Senior party members are among the 70 people due to go on trial on 20 April – and face up to 20 years in prison if found guilty.