China, Japan and South Korea meet to improve frosty relations
Comments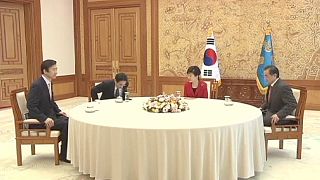 The foreign ministers of China, Japan and South Korea were in Seoul on Saturday .. to try and improve frosty relations ..strained by historical and territorial disputes.
Saturday's three-way talks are seen as a stepping stone towards resuming what had been an annual summit of the three countries' leaders to discuss cooperation.
"These were steps in the process of relationship improvement. The China-Japan relationship has gained positive momentum for improvement, but it's still far from a full recovery," said Liu Jianchao, China's assistant foreign minister. "The two sides need to make further and strenuous efforts to achieve a full recovery and a healthy development of bilateral ties."
The meeting took place after years of disputes with Japan over its reluctance to acknowledge the World War II abuse of mostly Korean women who said they were forced into sexual slavery Japanese soldiers.
Korea and China also have territorial disputes with Tokyo over islands.
China and Japan both claim a tiny group of islands in the East China Sea .. while South Korea and Japan have a separate island dispute.