Catholic bishop heckled by opponents of child sex abuse
Comments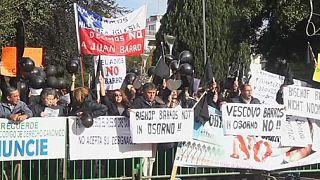 Newly named bishop of Osorno in Chile Juan Barros was pushed and shoved by demonstrators carrying black balloons as he squeezed through the crowd in Saint Matthew's Church.
Many Chilean Catholics say Barros covered up the sexual abuse of children committed by his superior Fr. Fernando Karadima Farina in the 1980s and '90s.
Karadima was found guilty by the Vatican in 2011.
While Barros himself is not accused of molestation, at least three victims of sex abuse say he was present when they were molested by Karadima in the 1980s and 90s.
Angry protesters shouted at Barros to "get out" during the mass ordaining him. He had to be escorted out of the building by police after the service.
Marta Gomez was among the hundreds of Catholics who gathered at the church to protest Barros.
"It causes sadness, it causes pain when it should be a day of celebration and joy because of the arrival of a new priest after months," Gomez said.
A crowd outside the church were angry about Barros's appointment by Pope Francis who has promised to crack down on clerical sex abuse.