Swedish restaurant shooting likely to be gang-related, say police
Comments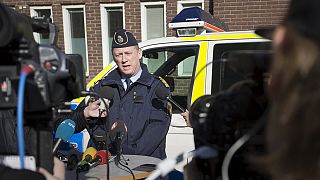 Swedish police say they think a shooting at a restaurant, which left two dead, was gang-related.
The restaurant, in Gothenberg, is said to have been full when masked gunmen opened fire on Wednesday night.
The two men killed were in their 20s, according to the police.
Gang members are thought to have been inside the restaurant at the time.
"It's awful when things like this happen. You feel insecure and scared. I pity them. It is young people we are talking about, children, so this is not a safe area," said one woman.
A shop owner added: "It is really sad to sell flowers for a reason like this."
Eight people were also wounded in the shooting, one of them seriously.
Police say several people are being questioned over the incident.